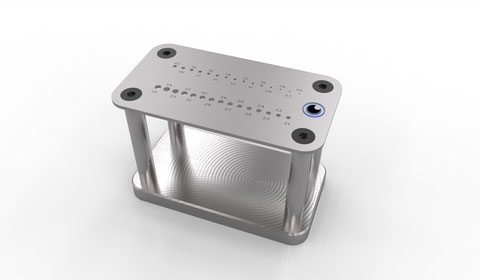 The measuring plate is made of stainless steel with a thickness of (2.0 ± 0.1) mm. The measuring plate has a total of 30 holes with no sharp edges with a diameter of 0.6 mm up to 3.5 mm in increments of 0.1 mm. The Tolerances on hole diameter equal to ± 0.02 mm.
Spezification
Dimension (W ,D ,H ) ca.    150, 80, 250 mm
Weight                               0,75 kg
Material                              stainless Steel, Aluminium
Ordering
Measuring plate                    308-020            980 €
Scope of Delivery
Conditions of Delivery
Delivery: EXW
Shipping time: by arrangement
Technical changes reserved.

The illustrations may differ from the actual equipment.
All data without obligation and not-binding.
The prices quoted are net prices.