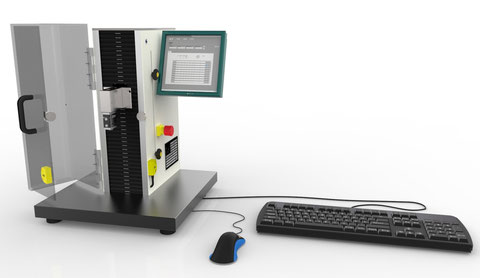 - Simple, intuitive operation through  procedure templates, minimum
  Operator training
- Dust and splash-proof touchscreen
- Modern Design & Technology: linear guidance technology with stepper motor
  ensure high precision in distance and speed
- Documented exporting the resulting data with test parameters and details
  to samples on USB in CSV format
- Two user access levels: supervisor and operator.
  Access level can be protected with a password
- Independent, fully operational system,
  requires no computer and no software installation
GMP / GLP:
- Two user access levels: supervisor and operator.
   Access level can be protected with a password.
- Print of results + product and test information
   to a printer via RS232
Function
This testing machine was developed especially for studies of dental materials . The main focus is compressive strength and tensile tests.
The testing machine is available for the force range 0.5 and 1 KN < 0.2 % accuracy (Factory calibration / ISO-calibration ) or with precision class 0.5 according to ISO 376 / DAkks-DKD -R 3-3. The cutoff frequency / sampling rate is 320 Hz. The universal testing machine allows test speeds from 0.5 to 600 mm / min. The maschine has a speed control. The testing machine is operating via touch screen. The maximum / peak value of the test is indicated, which is sufficient for the most standards for dental materials.
Due to the compact construction, the device is ideally suited for laboratory use .
ISO-Standards (speed, cross section) can be selected and the corresponding compressive stress is calculated.

Spezification
Workspace
  
120 x 120 x 300
Test Stroke without Testtool
 
300 mm (optional Extension on request)
Standard Function
 
Speed / Force Control,
manuel Positioning with TouchScrenn
Load (Tensile/Pressure)
 
0,5 KN
Speed with Load
 
0,5 – 600 mm/min
Backward Speed
 
V max.

Force

measurement accuracy

 
0,2 % of End Value
Power Supply
 
150W 115/230 VAC, 0,5 kVA, 50/60 Hz

Environmental Conditions

 
5- 40°C, 20- 80 % Humidity

Dimmension WxDxH

 
430 mm x 300mm x 430 mm

Weight

 
55 Kg
Housing
 

robust Construction made of

A

luminum

and V2A

mechanical Construction

 

Backlash-free Ball Spindle with Servo Motor Drive

mechanical stop of the traverser with adjustable limit switches
Ordering
Test Device with ISO - Calibration
 
445-010
  
12.144,- €
Optional
 
 
 
 
Test Device with ISO 376
 
445-020
 
 
Force Sensor 1 KN
 
440-010
 
 
3-4-Point Bending
 
440-020
 
 

Multipurpose

T

est Specimens

 
440-040
 
 
Biaxial Test with


precision

ball

cage leading

 
440-050
 
 
Tensile Test Plastic Teeth
 
440-060
 
 
Scope of Delivery
1 Test Device
1 Operating Instruction
1 Net wire CEE 16A (5 m)
Conditions of Delivery
Delivery: EXW
Shipping time: by arrangement
Technical changes reserved.

The illustrations may differ from the actual equipment.
All data without obligation and not-binding.