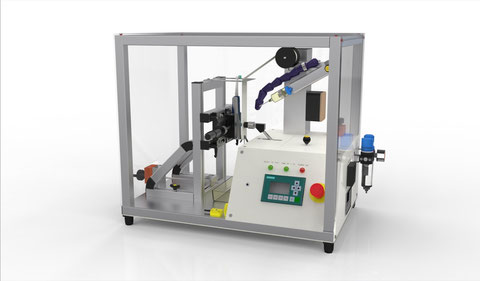 Function
Abrasion of markings and letterings caused by rubbing of fingers and hands.
The Abrasion Tester is used to simulate hand abrasion on surfaces of toothbrushes and  printings. The test is performed in accordance with the European standard DIN EN 60068-2-70 / IEC 68-2-70 (Test of resistance of labels and texts to abrasion, caused by rubbing of fingers and hands).
The test expose the surface under investigation a practical as possible modeled on manual operation.
In the mechanical load a dolly is performed at an angle of 45 ° with a distance of 4 mm and a defined pressure force on the test surface.
The force causes an elastic deformation of the printing and a rubbing motion on the surface.
In addition to the mechanical loading the chemical resistance can be tested. In this case, applying a mixture of toothpaste and artificial sweat during the test onto the surface.
Spezification
Dimesions (B,T,H) ca.
 
750, 500, 630 mm
Load:
 
1 – 10 N
Distance:
 
bis 10 mm
Frequency
 
2 HZ bei 4 mm
Number of Cycles:
 
1 bis 10 Mio.
Fluid supply:
 

cyclic

Fabric

feed

:

 

cyclic

Power Supply

 
115/230 (50/60 Hz)

Compressed air:

 

4 bar

, external,

oil-free,

water-free
Scope of Delivery
- Basic Device
- Movement apparatus for the inspection stamp
- Automatic Fluid supply
- Automatic Fluid supply
- Universal bracket with sample holder
- Touch screen for easy control
- Power cord CEE 16A (5 m)
- Operating Instructions
- calibration certificate
Ordering
Conditions of Delivery
Delivery: EXW
Shipping time: by arrangement
Technical changes reserved.

The illustrations may differ from the actual equipment.
All data without obligation and not-binding.