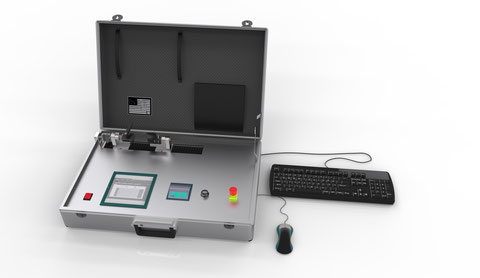 Function
This testing machine is specially designed for mobile use. The function is on tensile and compressive strength and the documentation of results.
The testing machine is available in different versions of 0.5, 1 and KN. The universal testing machine allows test speeds from 0.5 to 600 mm / min. The speed of the testing machine is independant of the load. The type of control can be set to either position or force. The testing machine is available with <0.2% accuracy (calibration) or after class 0.5 to ISO 376 / DKD DKD-R 3-3. A cut-off frequency / sampling rate of 1 kHz shall forward the detection max. occurring peaks.
Analogue and digital input and output are available. The mobile tensile testing machine is available with a mini thermal printer. It is also possible to connect a USB storage device.
Software
Delivery of the universal is inclusive software. The software detects the values of the force and displacement sensor, as well as the digital and analog inputs.
After completion of the investigation, the raw data and the calculated results are displayed and stored. The input of product-specific data (manufacturer, batch, composition, inquisitorial, etc.) and data for testing (examiner, date, location, etc.) enables a documented and traceable investigation.
The functional structure of the software allows for easy operation.
Spezification
Test Device

 
 
Working Dimensions

 
60 x 100 x 300
Stroke without tools

 
300 mm
Standard  Functionen
 

Force,

position control

, overload protection

,




Reversing

function

,

manual positioning

via keyboard

load ( strength

/

pressure)

 
up to 1 kN
Speed
 
0,5 – 600 mm/min
Bachward Speed

 
V max.
Force Area

 
< 0,2 % Accuracy (calibration) or  0,5 according ISO 376 / DAkkS-DKD-R 3-3
 
 
 
Position resolution
 
< 1 μm
Software-Interface
 
USB 2.0
PC
 
 Windows XP
Power Supply

 

150W 115/230 VAC, 0,5 kVA, 50/60 Hz+

Working Conditions

 
5- 40°C, 20- 80 % Humidity

Dimensions BxTxH
 
450 mm x 500mm x 300 mm
Weight

 
30 Kg
Housing
 
robust aluminum case

Mechanical design
 
1 backlash ball screw with servo motor drive
additional In/Output
 
2 x Digital IN TTL, 2 x Digital OUT TTL
 
 
2 x Analog IN +- 10 V 8Bit, 1 x analog OUT +- 5 V
Software
• Input all parameters via graphical menu structure under MS Windows
• Input parameters: Type, travel, direction, max. permissible force, preload speed
• automatic stop / reverse direction upon reaching the predetermined
   Traverse or the predetermined force
• Screen display: / force diagram
• Automatic creation of an MS Excel reports and additional raw data file to
   further processing
• Storage of data in Excel-readable files with time, date, and comment
   Name of the test series
• Real-time display of force and position during the test procedures
   Analysis functions:
• Calculation of the interpolated linear portion in any portion of the force / displacement diagram
• Display of the breaking force
Scope of Delivery
1 Test Device
1 x Software
1 x USB cable
1 Operating Instructions
1 Power cord CEE 16A (5 m)
Options
Load Cells
 
0,5 KN, 1 KN

mechanical

clamping tools

 

Strength

/

Pressure Test

Ordering
| | | |
| --- | --- | --- |
| mobiles Device with Touch-PC |   | 750-010 |
| mobiles Device with PC-Anschluss |   | 750-020 |
| integrated paper Printer |   | 750-030 |
| extern paper Printer |   | 750-040 |
Conditions of Delivery
Delivery: EXW
Shipping time: by arrangement
Technical changes reserved.

The illustrations may differ from the actual equipment.
All data without obligation and not-binding.