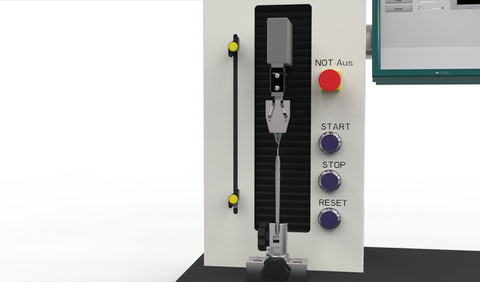 Function
The ISO 7492 describes methods for testing dental probes. The probe handle is clamped parallel to the tensile direction. At a pulling speed of 25 mm / min, a load of 600 N is established for 5 seconds.

To carry out the investigation you need a universal test maschine.
- simple test sequence through prefabricated test sequences,
  minimal training of the operator
- intuitive operation
- dust and splash water protected touch screen
- modern design & technology: linear guidance technology,
  Servomotor with preloaded ball circulating spindles ensure high performance
  Precision on distance and speed
- documented data export with test parameters and details
  of the samples on USB in CSV format
- independent, fully operational system,
  which requires no computer and no software installation
- Variety of tools and devices available
GMP / GLP:
- User access with password
- two user access levels: administrator and server
  Access level can be password protected
- Output of the results + Product and test information
  on a printer via RS232
Spezification
• Working Space WxDxH [mm] 100 x 100 x 300
• Test Stroke without Tools: 300 mm
• Standard features: Speed Control, Overload Protection
• Rated load (Stress/ Pressure) 600 N
• Working Conditions 5 - 40 ° C, 20-80% Humidity
• Weight 1 Kg
• stainless Steel
Scope of Delivery
Fixture Probe Handle
Fixture Probe Tip
Ordering
 
440-010

Fixture Probe

T

ip

 
440-020
Conditions of Delivery
Delivery: EXW
Shipping time: by arrangement
Technical changes reserved.

The illustrations may differ from the actual equipment.
All data without obligation and not-binding.