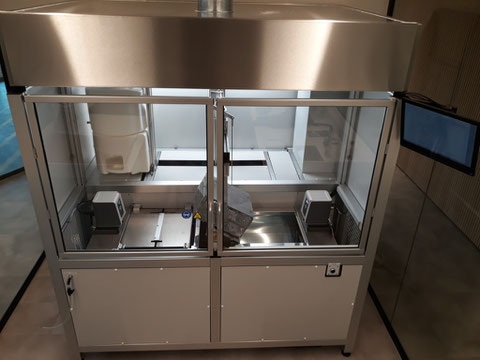 Function
The device allows products to be immersed in two different baths and exposed to different temperatures.
The maximum temperature is 98 °C. The minimum temperature is 5 °C.

The tester is particularly suitable for artificial aging of bottles.

Due to the rotating device of the sample holder, bottles can be filled completely.

Fans are located in the cooling position to cool the specimens to room temperature.

Automatic filling and refilling during the test.
Filling with tap water or also with osmosis water.

Sequences are freely programmable:
- Heating up and cooling down
  This phase can be started time-controlled.
- Cold bath with dwell time
- Heat bath with dwell time
- Cooling to room temperature with dwell time
  and optional ventilation
The entire process with temperatures and cycle times is stored in csv format.

Remote control and remote monitoring via Ethernet on any PC.

Specification
Dimensions (L x W x H) W 1.8 m x D 1.2 m x H 1.7 m
Weight 400 kg
Required floor space 2 m2
Type of test equipment Semi-automatic
Control PLC
Protection class IP 31
Test equipment supply
Power supply: 3 x 230 VAC, 16 A

The maximum load in the basket must not exceed 10 kg.
The device complies with EN ISO 13849-1 category 3 and PL d for safety.
Scope of delivery
1 tester
 - Cold bath
 - Heat bath
 - X-Y drive
 - Osmosis plant
 - Fans for cooling to air
1 Instruction manual
Ordering information
| | | | |
| --- | --- | --- | --- |
| Temperatur Cycle Test | 210-020 |   | 37.880,- € |
| Osmosis system | 210-022 |   | 5.000,- € |
Delivery conditions
Delivery condition: EXW
Delivery time: by agreement
Subject to technical changes.
The illustrations may differ from the actual devices.
All information is non-binding and subject to change