This extensiometer was developed according to the ISO 6873 for dental plasters and ISO11245 Dental Restorations - Phosphate-bonded refractory model die materials.  Investigates is the expansion of dental materials between two points in time.

The automatic test is equipped with an incremental sensor, and an electronic controller. The test  position the sensor automatically on the end of the plaster. The extenions is automatically recorded and calculated.

The automation of the test sequence and the functional structure of the software allows an easy operation. Thees reduce the user impact and improve the reproducibility of the results.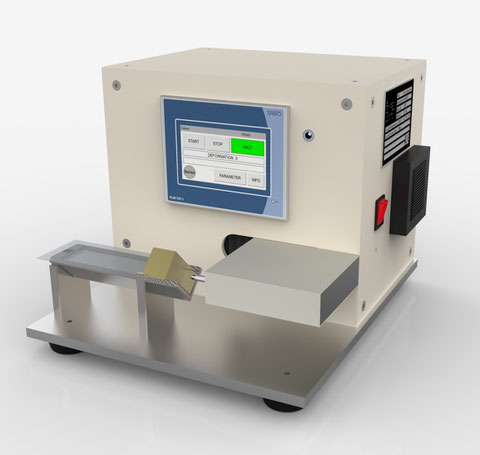 - Simple, intuitive operation through  procedure templates, minimum
  Operator training
- Dust and splash-proof touchscreen
- Modern Design & Technology: linear guidance technology with stepper motor
  ensure high precision in distance and speed
- Documented exporting the resulting data with test parameters and details
  to samples on USB in CSV format
- Independent, fully operational system,
  requires no computer and no software installation
GMP/GLP:
- Two user access levels: supervisor and operator.
  Access level can be protected with a password
- Result Export on a printer
- Enter product-specific data (manufacturer, batch, composition, basic investigation, etc.) and data for testing (tester, date, location, etc.).
Specification
| | | |
| --- | --- | --- |
| Dimension (W, D, H) ca. |   | 300, 250, 300 mm |
| Weight |   | 2 kg |
| Presicion |   | 0,01 mm |
| Sample Length |   | ca. 100mm |
| Power Supply |   | 115/230 V (50/60 Hz) |
Scope of Delivery
1 Device
1 Operating Instruction
1 Power Cord CEE 16A (5 m)
Ordering
Conditions of Delivery
Delivery: EXW
Shipping time: by arrangement
Technical changes reserved.

The illustrations may differ from the actual equipment.