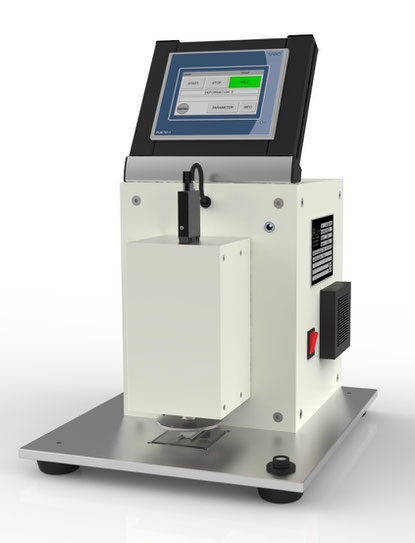 - Simple, intuitive operation through  procedure templates, minimum
  Operator training
- Dust and splash-proof touchscreen
- Modern Design & Technology: linear guidance technology with stepper motor
  ensure high precision in distance and speed
- Documented exporting the resulting data with test parameters and details
  to samples on USB in CSV format
- Two user access levels: supervisor and operator.
  Access level can be protected with a password
- Independent, fully operational system,
  requires no computer and no software installation
Function
This test device automatically measures the deformation under pressure of elastomer impression materials.
Test loads and process time are controlled automatically. The deformation under pressure E is measured, calculated and displayed on the touch screen.
The test parameters can be changed via the input keyboard.

The automation of the test sequence and the functional structure of the software allows an easy operation. Thees reduce the user impact and improve the reproducibility of the results.
Options Software
Optionally we offer a software to enter product-specific data (manufacturer, batch, composition, basic investigation, etc.) and data for testing (tester, date, location, etc.). This enables a documented and verifiable investigation. The results can be print  or saved as a text file on a storage device.
Specification
Dimension (W, D, H) ca.
 
200, 300, 300 mm
Weight
 
15 kg
Display
 
4,3''
Power Supply
 

115/230 (50/60 Hz)

 

accuracy +- 0,1 N

 
Accessories Probe Preperation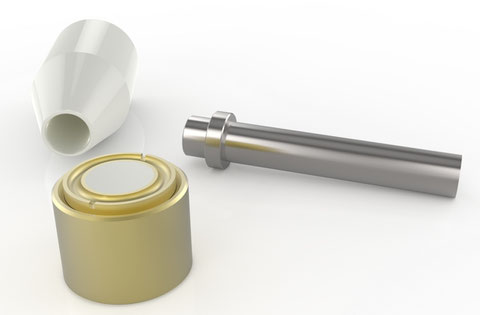 Compression Test
- Form for the preparation of the test specimens
- Glass or metal plates, about 50x50x3 mm
  Consistency Test
- Doser for preparing the specimens for the consistency test
Scope of Delivery
1    Test Device
1    Power Cord CEE 16A (5 m)
1    Operating Instruction
Ordering
| | |
| --- | --- |
| Stain-in-compression automatic            | 410-010 |
| Accessories Probe Preperation | 410-050 |
Conditions of Delivery
Delivery: EXW
Shipping time: by arrangement
Technical changes reserved.

The illustrations may differ from the actual equipment.
All data without obligation and not-binding.